Ice Skating 17/12/23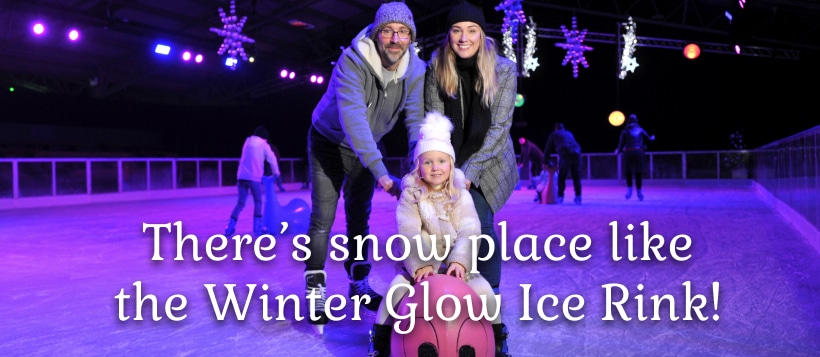 Enjoy Christmas ice skating at Santa's Winter Wonderland on Malvern's largest indoor ice rink at the Three Counties Showground.
Sheltered from the elements and festively decorated, our skate rink is the perfect place for a winter skate night out!
📅 Available from: 24th November – 6th January 2024
📍 Location: Three Counties Showground, Malvern, Worcestershire.
🕒 Opening times: Sessions every hour, on the hour and last 45 minutes
💸 Prices from: £8.40 per child and £10 per adult
Explore events and opening times on our calendar page. Rink opening times vary, so please check this when booking.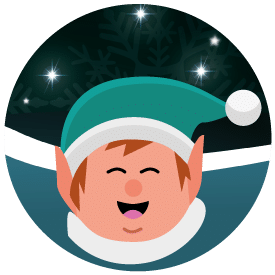 Jingle the Elf Recommends
"Plan to arrive 15 - 20 minutes before your session starts to get your Ice Skates on in time. Spectators are more than welcome to come along too and can relax in our Ice Cafe with a warming hot chocolate or mulled wine whilst you ice skate. Non-skaters can enter the site for free without needing a ticket."
What's New with our indoor ice skating rink in 2023? 🌈
There's no better activity for getting that 2023 holiday spirit than ice skating in Worcestershire. Glide along to festive classics this Christmas on one of the largest all-weather ice rinks in the whole of the West Midlands.
With giant glistening snowflakes and beautiful new decorations, our indoor ice rink perfectly encapsulates the festive nature of Christmas.
🎉 Princesses and Superheroes Parties 2023
We are thrilled to be hosting Ice parties for Disney's Frozen or Marvel fans - every Sunday at 10am from 3rd – 17th December! Your little ones will get to skate around the Ice Rink with Elsa, Anna and Captain America!
💃 Fancy dress is not mandatory, but is strongly encouraged.
🚗 FREE Parking & More!
Enjoy complimentary parking and immerse yourself in the Christmas market and food quarter with your ticket purchase.
(The Christmas Market is open on Fridays, Saturdays, and Sundays only. Closed on Mondays through Thursdays.)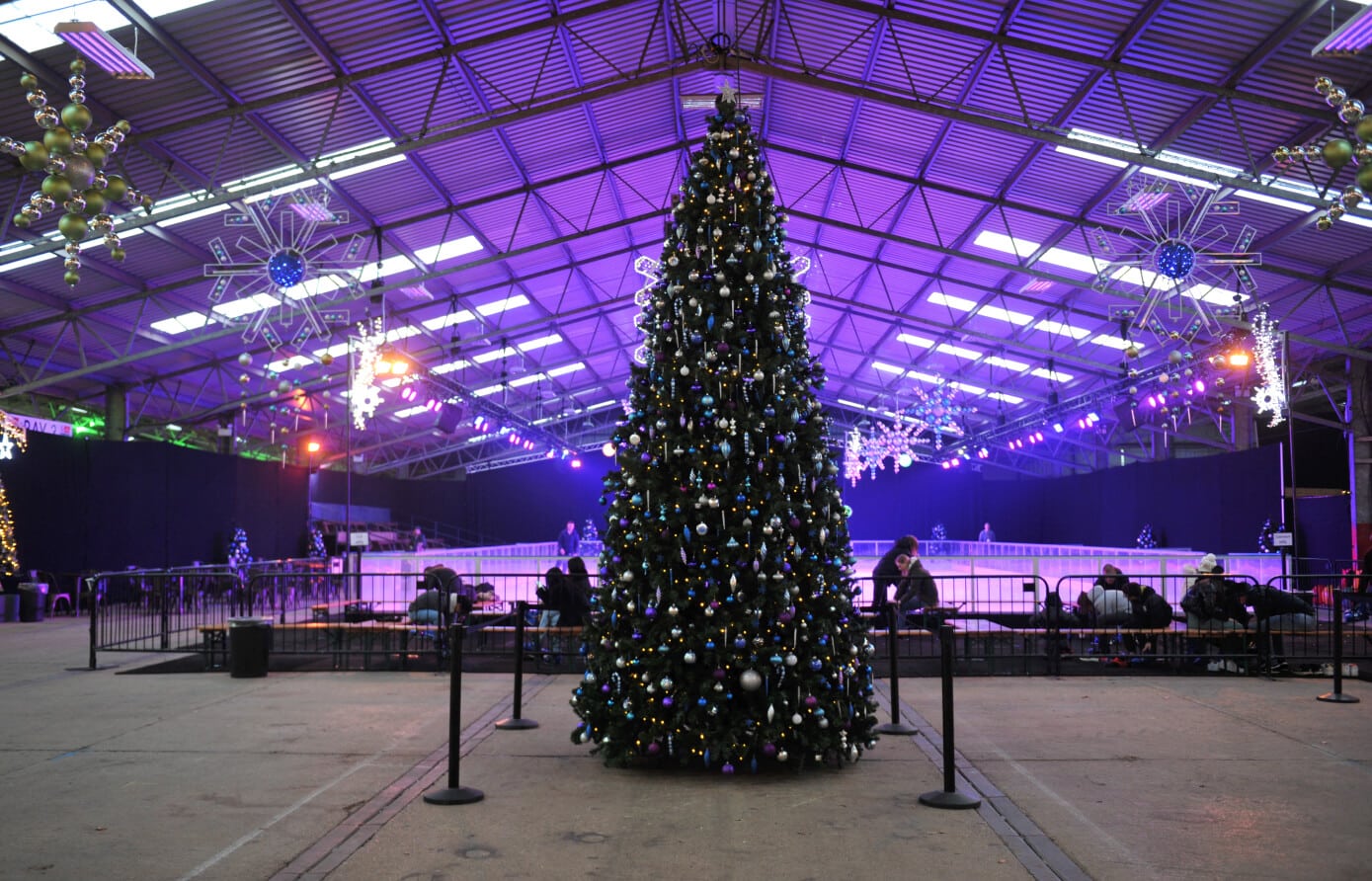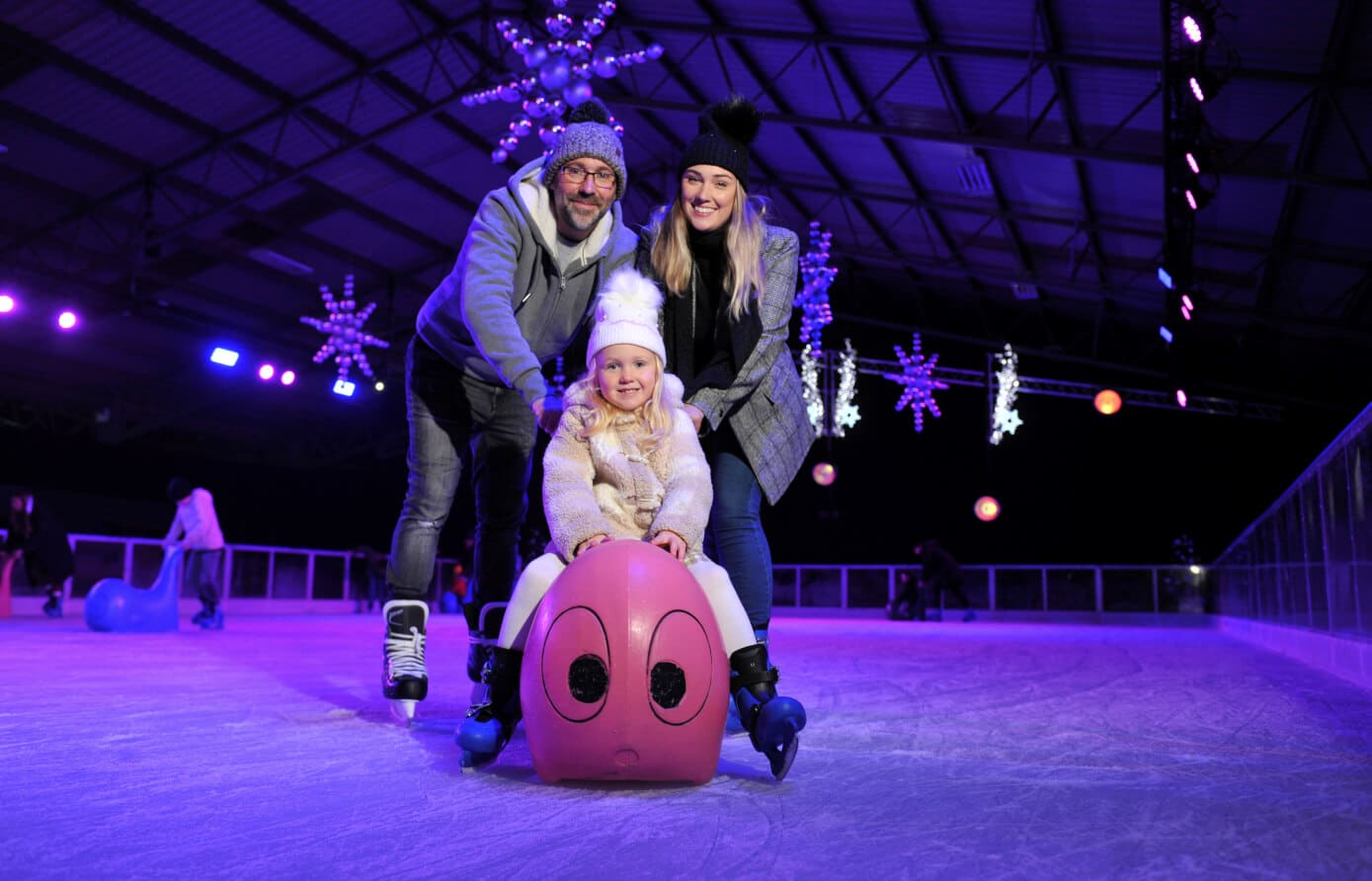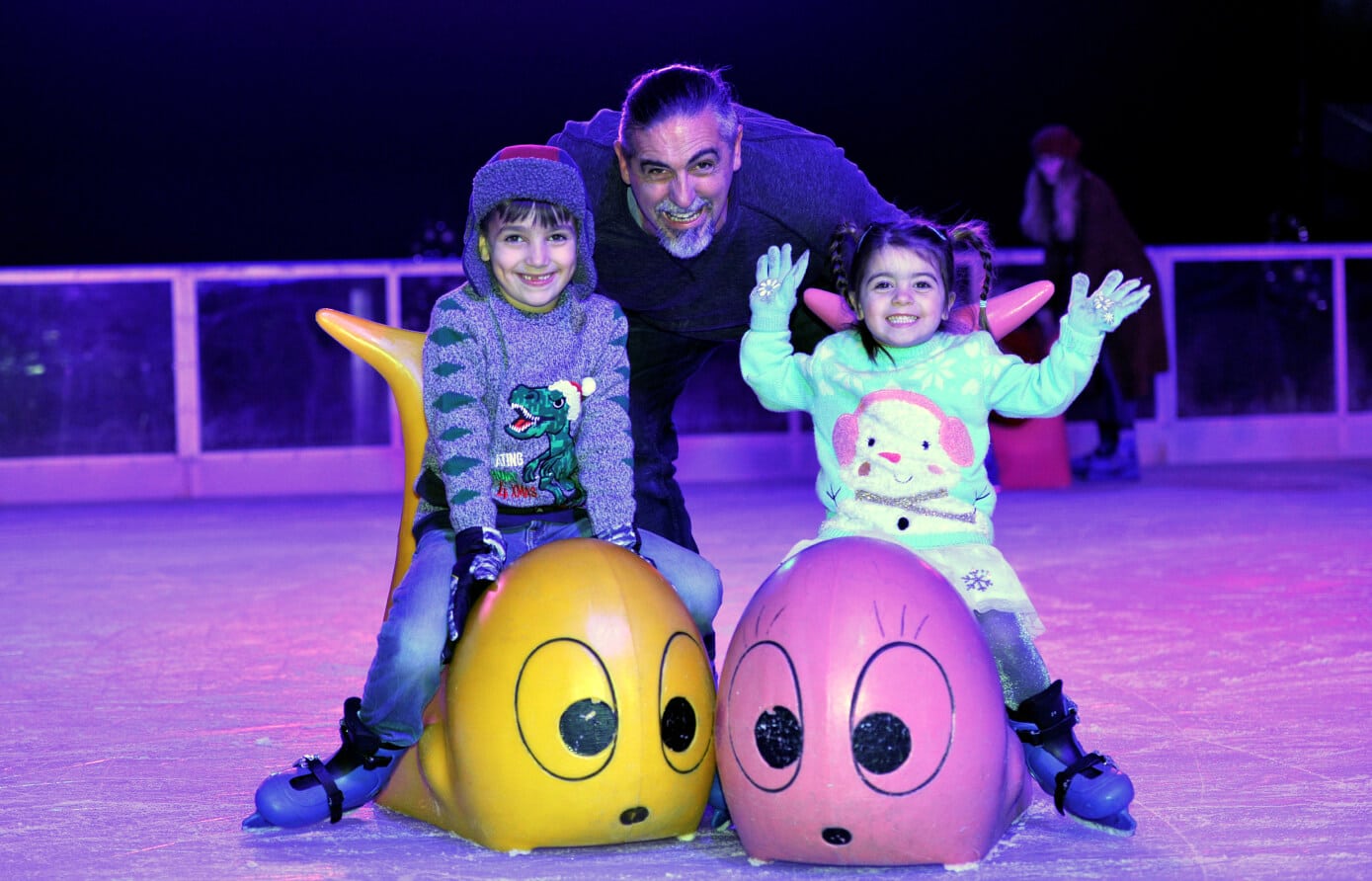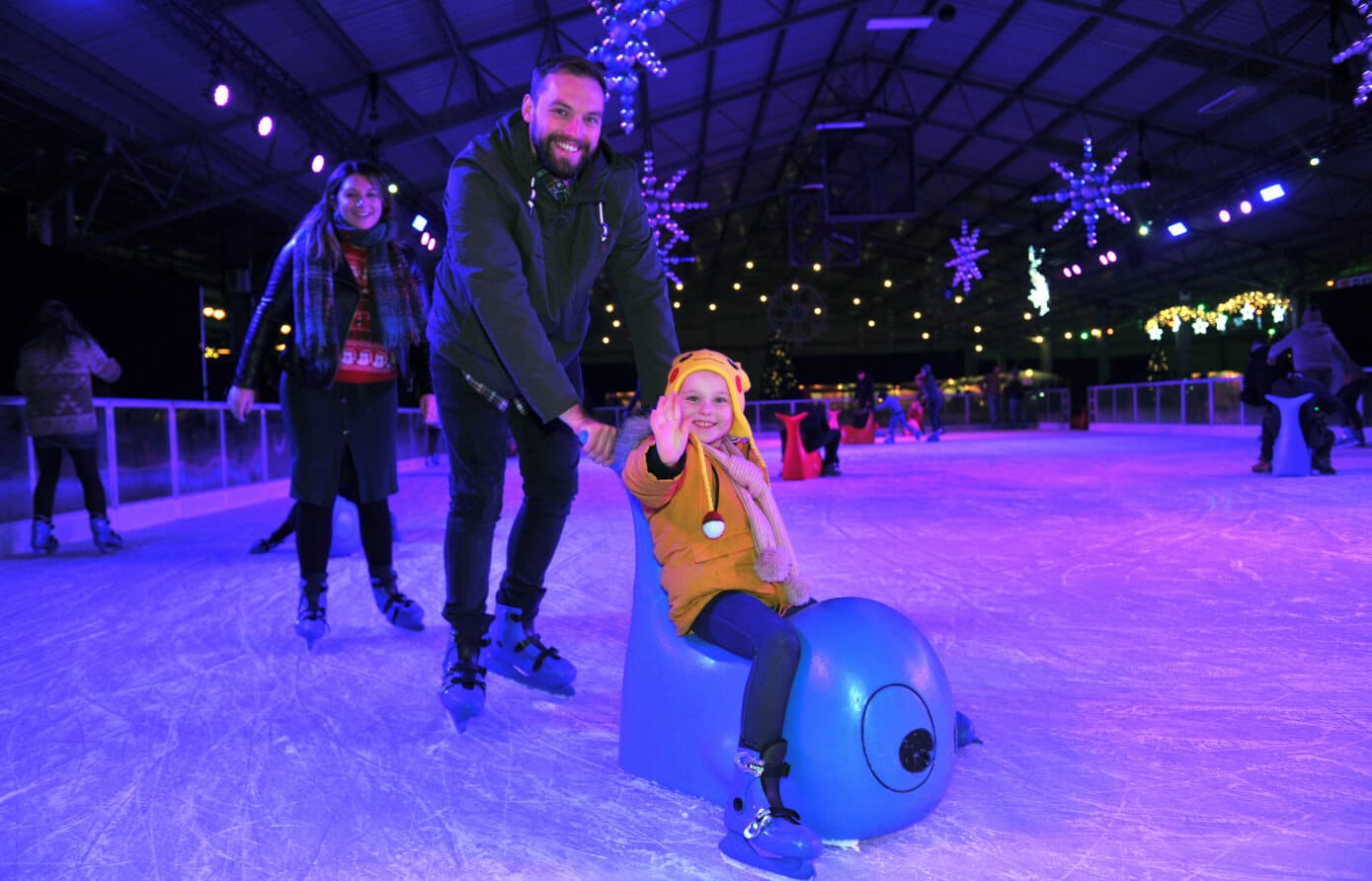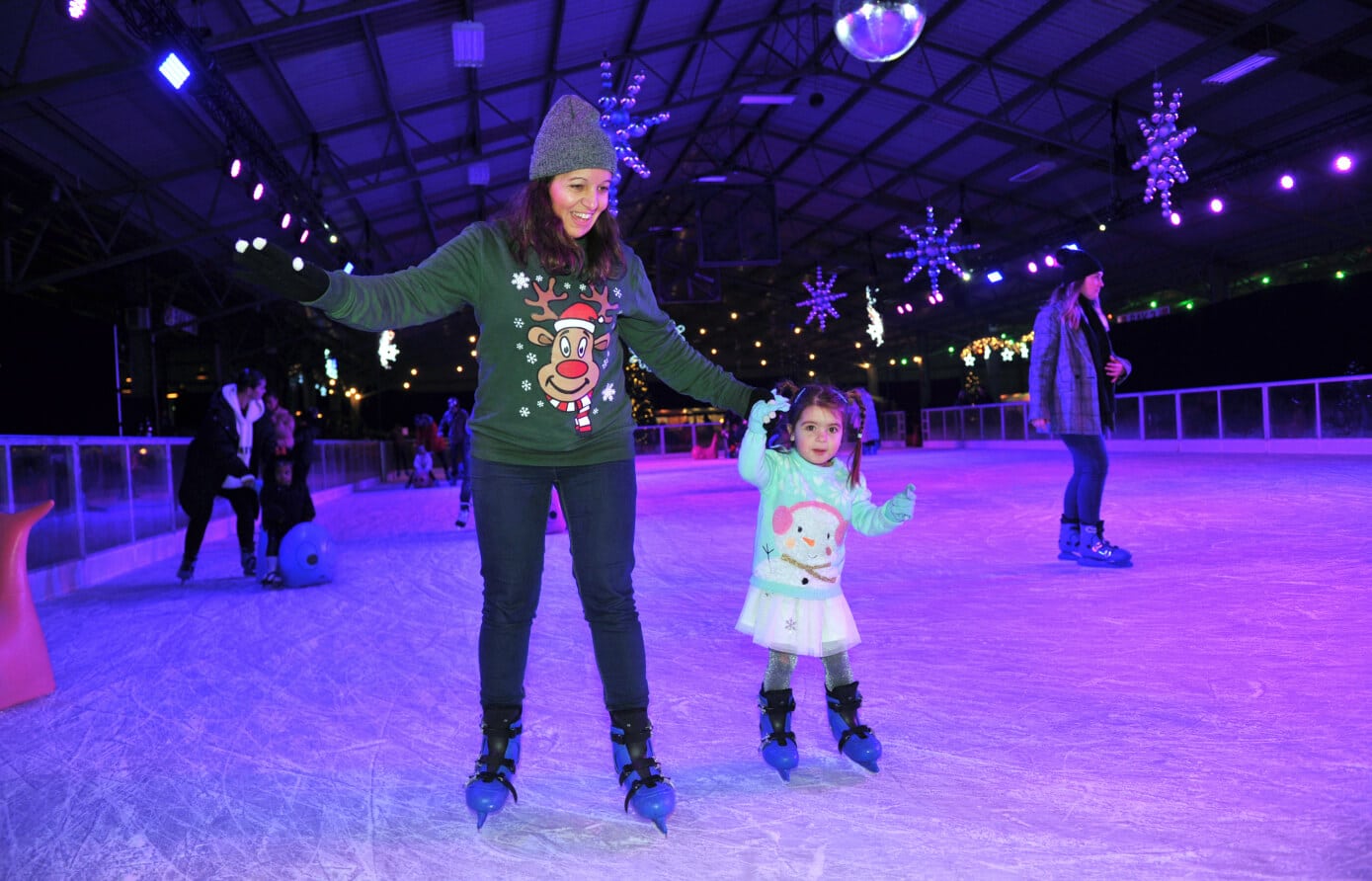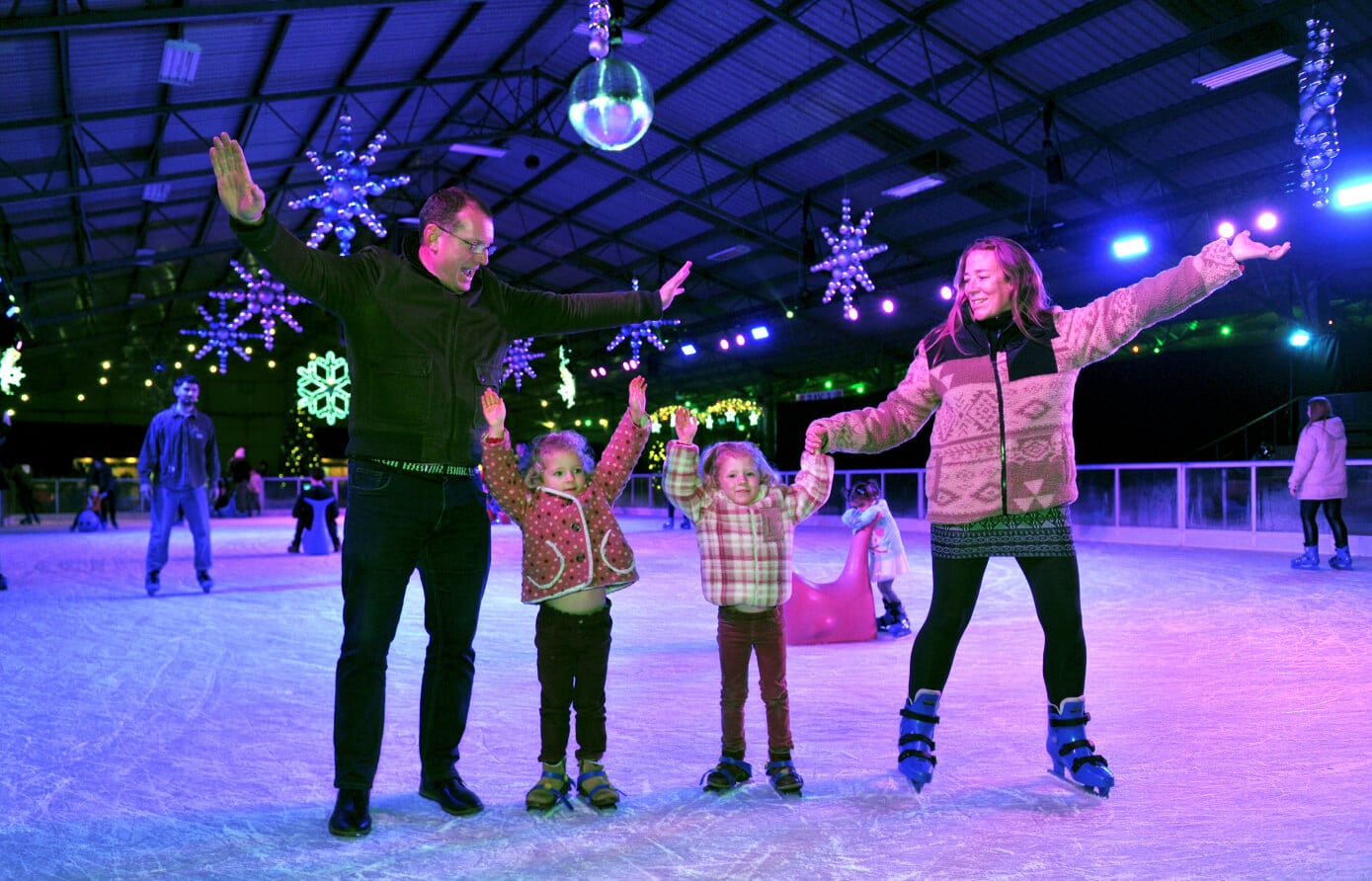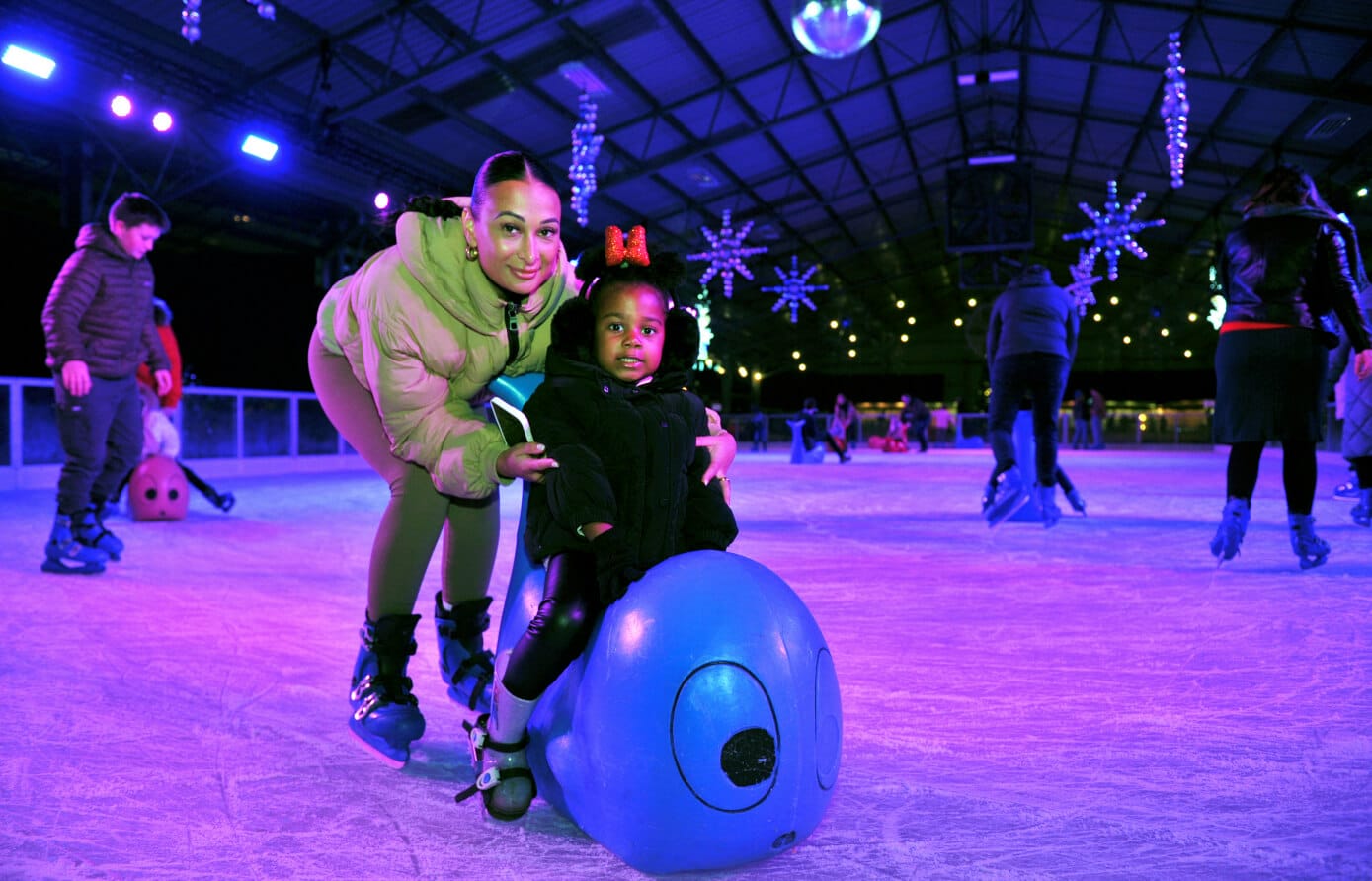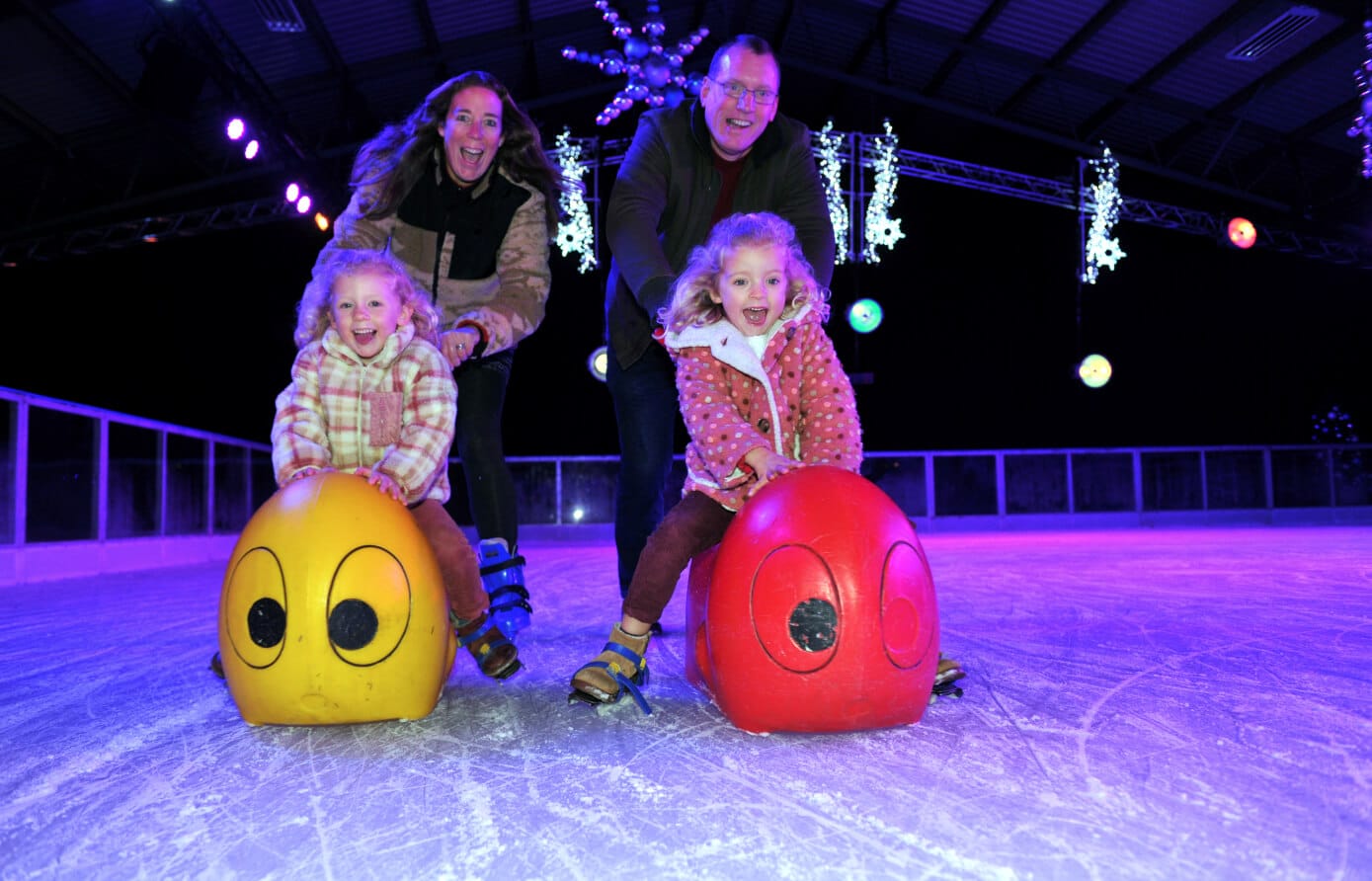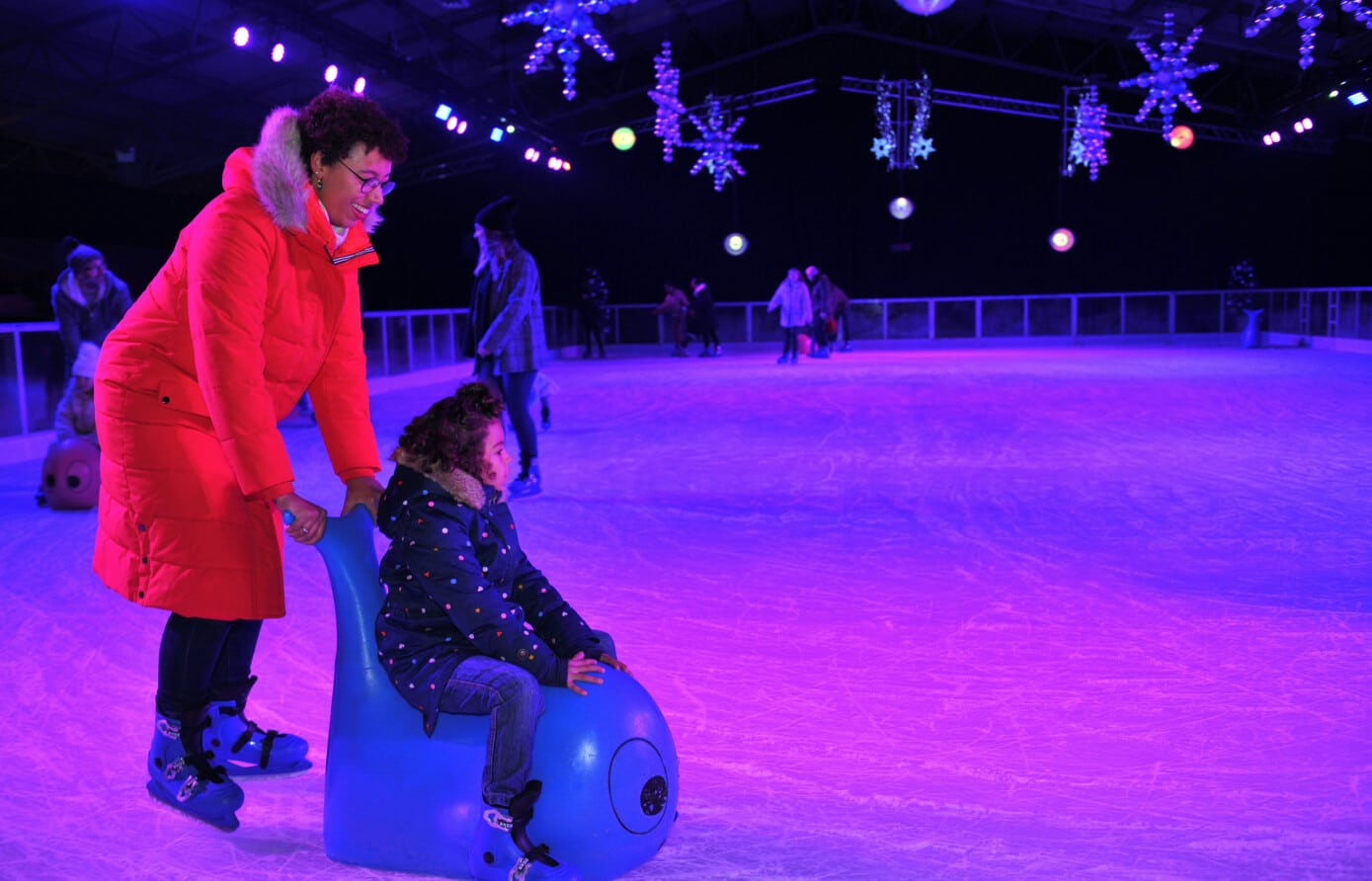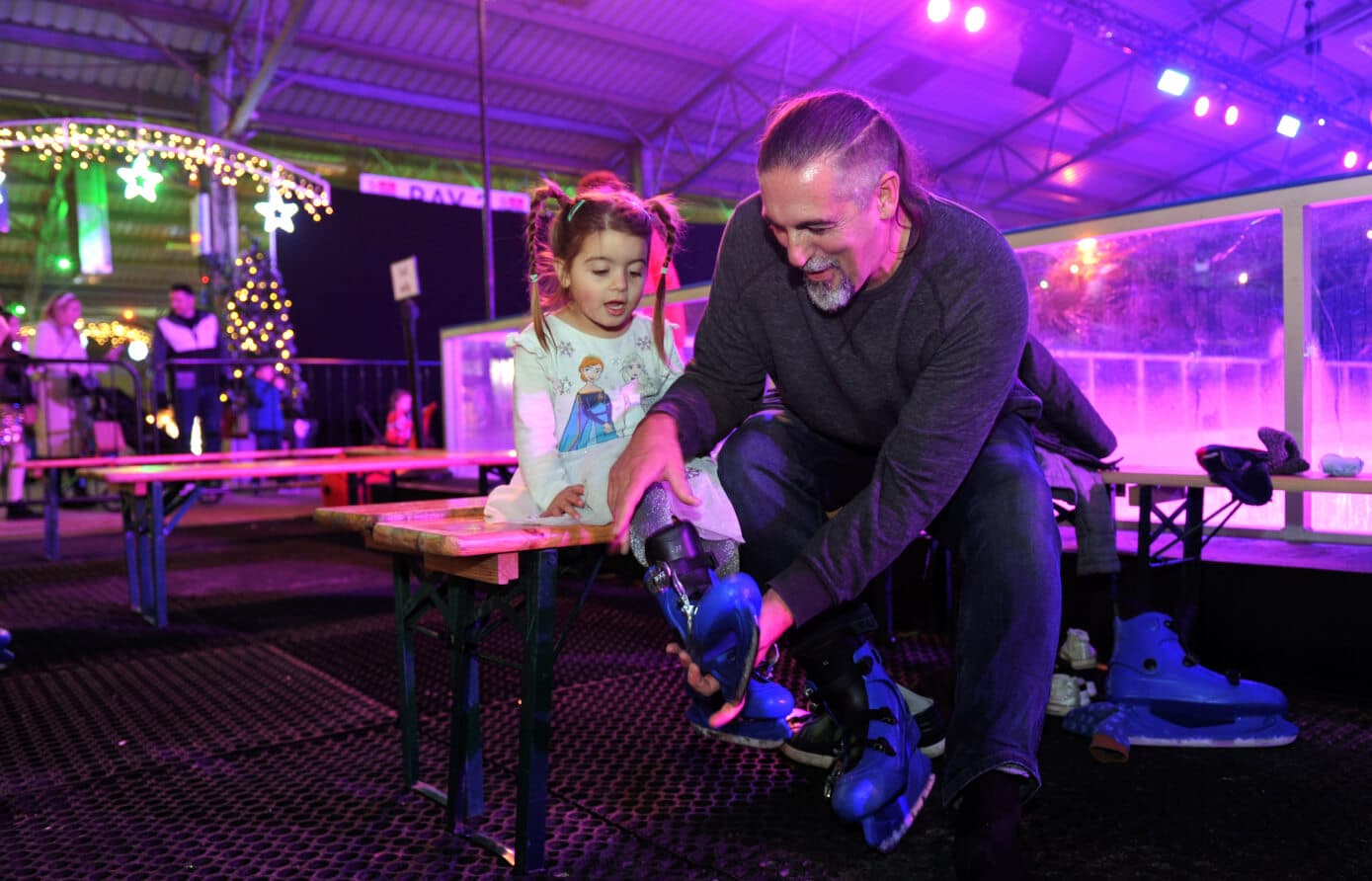 ---
Quick Facts

The Ice Rink is open from the 24th November 2023 - 6th January 2024
Ice skating sessions take place every hour, on the hour and last 45 minutes. Rink opening times do vary, so please check this when booking.
We do advise arriving 20 minutes early to your booked session to get your skates fitted.
Children under the age of 3 unfortunately are not permitted on the ice.
Ticket prices range from £8.40 - £15, depending on the date/time of your booking.
If booking alongside other attractions, please see our example timings on our FAQ's page.
The Ice Rink will be closed on the following dates: 27th, 28th, 29th, 30th November and 4th, 5th, 6th, 7th, 25th and 26th December 2023.
Skate Aids

We stock a limited amount of Beluga Whale skate aids that can be used by children aged 3-10 to sit on or skate with to aid balance whilst on the ice. Numbers for each session are restricted and allocated on a first-come first-serve basis.

When booking your tickets, a pop-up will prompt you to add a skate aid to your order, and you will need to select this. A maximum of two skate aids can be added per booking. Please note that if skate aids are sold out for your selected session, the aid will not be added to your basket.

Please carefully check this when completing your order. We strongly recommend booking a skate aid in advance of arriving to the Ice Rink.

Please note that skates aids are only available to purchase for under 10s.
Ice Princess & Superhero Parties

We're excited to be hosting Ice Princesses and Superheroes parties every Sunday at 10am from 3rd - 17th December! If your little ones are huge fans of Disney's Frozen or Marvel, then imagine their little faces light up when they get to skate round the Ice Rink with Elsa, Anna and Captain America.

A must for all mini princes, princesses and superheroes in the making!
Ice Cafe

The Ice Cafe offers up a selection of lighter food options and hot and cold drinks. It's the perfect place for avid skaters to rest and refuel after their skating session, and ideal for those who prefer their feet to remain firmly on solid ground.

The Ice Cafe will be open from the 24th November 2023 - 6th January 2024 (opening times will be posted later on in the year).
Handy Tips

We do allow manual wheelchairs on the ice, however electric wheelchairs unfortunately are not permitted - please head to our FAQs page for more information.
There is a spectators area next to the ice rink, however it is not heated so please do wrap up warm.
Ice skates are included in the ticket price and available from size J8 (child) up to and including size 14 (adult).
Please wear warm and suitable clothing, it may be indoors, but it is still an ice rink!
For any more questions, please visit our FAQ's page
Group Bookings & Private Hire

If you are a large group, school or club, or are looking to privately hire the ice rink, we have a range of deals and special offers available. Find out more about large group or private booking enquires.
---
"...We had an amazing time ice skating...plenty of space to get ready and lots of skate aids available for little ones..."
---
---
Our FAQs page features lots of helpful information about all of our attractions. Please Contact Us if you have any other questions.
---
You Might Also Be Interested In