Santa Paws 12/12/23
Dog Friendly Days and Santa Paws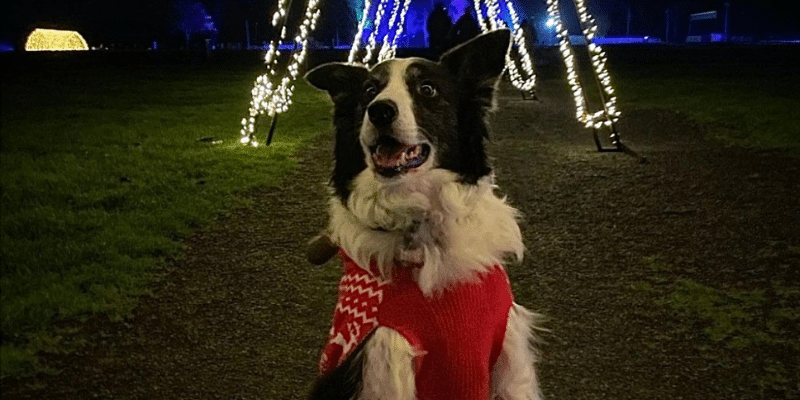 Santa Paws and Dog Friendly Light Trail
Did you know that Winter Glow isn't always just for humans? We don't believe that our favourite member of the family should miss out on the festive fun and that is why our paw-some dog friendly nights back for 2023 with the brand new opportunity for our pups to meet Santa, explore the Illuminated Light Trail and capture the ultimate Christmas selfies. Taking place on the 11th, 12th and 28th* December!
Bring your four-legged friend along to meet Santa with your family here they will receive their very own gift, and capture the most adorable festive family photo - think of the Christmas card opportunities! Once you have met the man himself, visit Mrs Claus' bakery where your pooch can sample the brand new dog friendly biscuit recipe and receive all the puppy love.
Santa Paws can be booked via our Personalised Santa Experience page. For dog friendly Light Trail tickets, just book your Light Trail tickets in the usual way for either the 11th, 12th or 28th of December.
*28th December is for dog friendly Light Trail sessions only. Santa Paws will be held on the 11th & 12th December only as the Grotto will be closed following Christmas Day to give Santa a rest!
Santa Paws VIP
If these sound paws-itively amazing, why not bundle up with our Santa Paws VIP package which includes both the Santa Paws Experience and Illuminated Light Trail, plus a VIP table, some fantastic festive food and drink for you and a tasty treat for your pooches.
Need to Know
Unfortunately no dogs (except for guide dogs and registered assistance dogs) are permitted on site on any days other than our specific dog friendly days (11th, 12th and 28th December 2023).
If you have a friendly dog that is used to being around lots of people (and other dogs), you are free to bring your go on the above mentioned three days.
On our dog friendly days dogs will be welcome in the Grotto for our brand new experience: Santa Paws (11th & 12th only), the Illuminated Light Trail, Food Quarter, Cafe, Bar and VIP area. So if you fancy a grabbing a tasty treat after your walk or visit with Santa, you are welcome to bing your pooch along!
Dogs must be added to Santa Paws booking by adding 'additional dog' ticket.
Owners must be responsible for their dogs, clean up after them and keep them on a short lead at all times.
Please note: dogs are not permitted on the ice rink or any fairground rides.
You Might Also Be Interested In