Accessibility at Winter Glow is something that our elves work relentlessly to ensure. It's so important to us as a team that our festive experiences are accessible to people of all abilities. We strive to accept and honour each visitor's uniqueness as we believe that everyone should have the equal opportunity to celebrate Christmas together with their friends and family.
Wheelchair friendly experiences
ALL 4 of our Winter Glow experiences are wheelchair friendly. Our Light Trail is suitable for both manual and electric wheelchairs. The trail itself is built on a mix of tarmac pathways and temporary tracking so that no part of the Light Trail is on grass or mud. Our Observation Wheel has a wheelchair-friendly pod, our Santa's grotto has wide corridors to accommodate chairs, and we can allow up to 3 wheelchairs onto our Ice Rink per skating session.
For Health and Safety reasons, some of our experiences, such as our Ice Rink and Observation Wheel are not suitable for electric wheelchairs. We provide a manual wheelchair at these attractions for visitors with electric wheelchairs to swap into.
Accessibility at Winter Glow – Carers' go free!
We provide one free carer ticket to the following attractions: Ice skating, Giant Observation Wheel and Illuminated Light Trail for anybody attending Winter Glow whilst fulfilling their role as a Carer.
What do I need to qualify for a free carer ticket?
To be entitled to a free carer ticket, you need to have one of the following forms of documentation:
Entitlement to Disability Living Allowance for children under 16 or DLA/Personal Independent Payments (PIP) for those aged 16-64, either in the form of a letter stating that the benefit has been awarded, or the actual Allowance Book (dated within the last 12 months)
Attendance Allowance or Carer's Allowance letter of award (dated within the last 12 months).
A valid Blue Badge.
In the case of visual impairment, a registration card known as the BD8 or a Certificate of Visual Impairment (CVI).
A recognised Assistance Dog ID Card.
Please notes that the free ticket is for carer's only, guests with a disability and any further members of their party will pay the full ticket price.
Sensory-Friendly Light Trail Sessions
We host Sensory-Friendly Sessions for our Illuminated Light Trail. This session will enable visitors with additional needs to experience our attractions in a comfortable and non-threatening environment. To make these sessions as relaxing as possible, lights will be raised with any rapid movement reduced, music will be lowered, and capacity will be capped to allow visitors to move around the Light Trail as freely as possible.
Our Sensory Friendly Light Trail Session will be taking place on Monday 19th December 2022 at 4:15pm.
Accessibility at Winter Glow – Personalised Santa Experiences
If you are attending our Santa Experience with a person who has additional needs, please let us know how we can help, and we will tailor your session and brief Santa to make your experience as comfortable and as magical as possible.
Please either email us at christmas@winterglow.co.uk or include your specifications when filling out the personalised information for your Santa Experience when booking.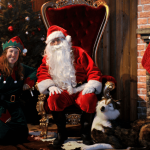 Disabled Parking
We have ample disabled parking close to the event entrance, and stewards on hand to assist if needed.
Accessibility at Winter Glow – Guide Dogs
Assistance dogs are permitted on all live dates (25th November 2022 – 1st January 2023). They will be able to accompany owners on our Giant Observation Wheel, Illuminated Light Trail and in our Personalised Santa Experience.
How do I book tickets?
To book tickets for any of our Winter Glow attractions, head to our ticketing page. Ticket prices vary. Remember that the EarlyBird 10% discount for Light Trail and Ice-Skating tickets expires on the 31st October 2022.
Where is Winter Glow?
Winter Glow will be taking place at the Three Counties Showground from the 25th November 2022 – 2nd January 2023.
Our FAQ's page features lots of helpful information about all our attractions. Please Contact Us if you have any other questions.