Afternoon Tea Fit for a Queen!
With the Queen's Jubilee only a few days away, it only seemed fitting to announce that our own, brand-new Christmas Afternoon Tea packages are now available to pre-order! Join us at the Three Counties Showground for an indulgent afternoon filled with an array of sweet and savoury festive treats.
Our Christmas Afternoon Tea Packages offer up a selection of finger sandwiches, artisan cakes and traditional scones – spread the jam first, then the cream, as decreed by Her Majesty The Queen – warm cold hands on a cup of traditional English tea, or if you're feeling especially festive, upgrade and add a glass of Prosecco or mulled wine.
What's included in my Christmas Afternoon Tea and how much is it per person?
Our Christmas Afternoon Tea is £16.95 per person and includes the following:
Pot of English Tea or Coffee of Your Choice.
Traditional Finger Sandwiches (4 per person).
Freshly Baked Scones, Clotted Cream and Strawberry Jam.
Selection of Small Cakes and Macaroons.
There will also be the option to upgrade and add either a glass of Prosecco or mulled wine at an extra charge on the day of your booking.
Do I have to pre-book my Christmas Afternoon Tea, how would I do this?
We do have a limited number of Afternoon Teas available each day and this does mean that you will have to pre-book. To do this, all you have to do is:
Head to our ticketing page and select the 'Pre-order Christmas Afternoon Tea' icon.
Add how many people you would like to book your afternoon tea for and click 'Select your session.'
Choose the date and time that you would like your afternoon tea to be booked for.
Head to your basket and click checkout.
Once your booking has been confirmed, you will then receive a booking confirmation email.
Traditional Cream Teas will also be available to order from our Ice Café (pre-booking not required).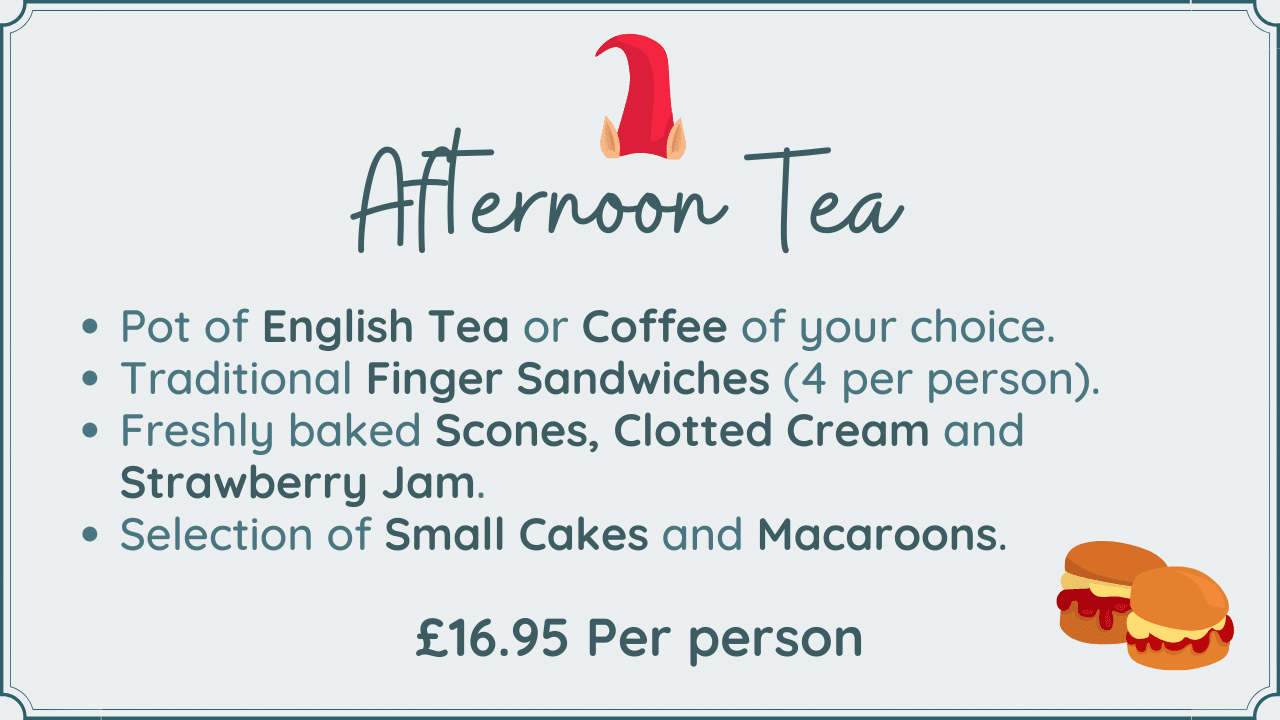 Will there be any gluten free or vegetarian options?
Gluten free and vegetarian options will be available, and you will be able to specify your Afternoon Tea dietary requirements at checkout.
What booking times are available?
Christmas Afternoon Teas will be available to book from 11am – 3pm on the 26th – 27th November 2022 and the 2nd December 2022 – 2nd January 2023 (excluding the 25th and 26th December).
Where do I go when I arrive for my Christmas Afternoon Tea?
Christmas Afternoon Tea will be served in the VIP area of our Ice Café. On arrival the stewards will direct you towards the Ice Rink and Ice Café, there you will be greeted by a member of our team, who will show you to your table.
Please note that though the Ice Café is indoors, this area is not heated.
Here today, scone tomorrow!
With limited availability, book your Christmas Afternoon Tea today and celebrate the festive season like true royal tea!