Love spending time with your pooch? Enjoy a delightful doggy day out with your four-legged friend this Christmas in Malvern, Worcestershire. Our much-loved dog-friendly light trail sessions are back for Winter Glow 2022! Taking place on the 13th and 28th December 2022 and 1st January 2023 at the Three Counties Showground, dog owners from across the West Midlands will be invited to bring along their VIP's: very important puppies and join us for the most pawsome Christmas day out!
What is a dog-friendly Light Trail and what can I expect?
Our Light Trail showcases structures, installations and illuminations created especially for Winter Glow by teams of local creative artists, lighting designers and craft-persons. Plans are already in place to make this year's Christmas event even more magical than the last, with new, magical installations currently being created to go alongside the Light Trail's new adventure theme – 'A Christmas Odyssey.'
Explore the Showground and be transported from the depths of ancient Atlantis to the fanciful shores of festive islands, adorned with shimmering lights and impressive features. This interactive adventure trail is guaranteed to bring an element of festive fun to Malvern this winter. With returning favourites such as our stunning Cathedral Arch, along with a host of new installations, you'd be barking mad to miss it!
Younger visitors will also be invited to join Jingle the Elf on his quest to find his 5 missing elves, solve clues and make discoveries on this one-of-a-kind experience that will surprise and charm both children, adults and dogs alike.
The only dog-friendly Light Trail in the West Midlands!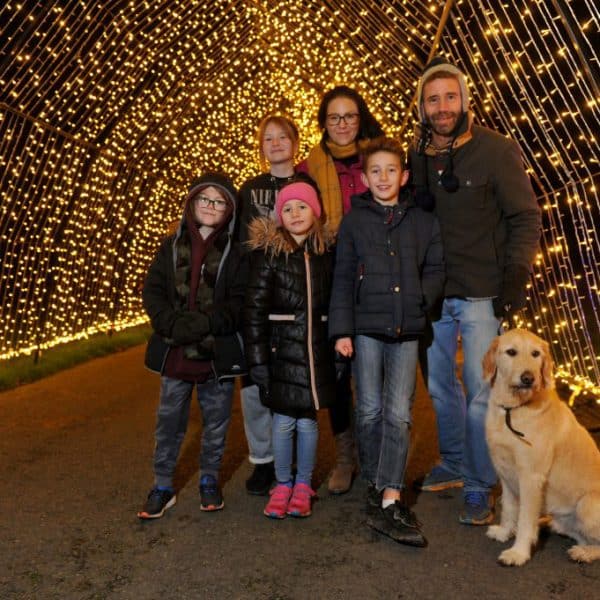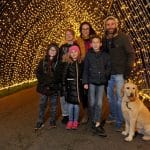 Winter Glow is the only Christmas event in Worcestershire that provides visitors with the perfect op-paw-tunity to celebrate the festive season with their furry best friends. Tickets for these sessions are now on sale and will disappear quicker than a dog's dinner!
Please note that outside of our dog-friendly Light Trail evenings (13th and 28th December 2022 and 1stJanuary 2023), only guide dogs and registered assistance dogs will be permitted on the Winter Glow grounds.
Why can I only bring my dog on specific dates?
We have restricted our dog friendly evenings to 13th and 28th December 2022 and 1st January 2023. This is mainly because we like to make sure that noise levels are reduced for our pawsome friends and their sensitive ears. Visitors will also have the chance to meet other dog owners who are just as crazy about their pets as they are. Dog friendly events also come with an additional level of, shall we say, housekeeping.
Waste bins and water bowls will be dotted around the trail during our dog-friendly Light Trail sessions, and we ask that dogs be kept on leads at all times.
Is the Light Trail the only attraction that is dog-friendly?
Pooches will also be welcome in our indoor Food Quarter, Ice Café and Christmas Market. Relax with a winter warmer and enjoy a treat or two from one of our talented independent food vendors. Afterwards, why not browse our new Christmas Market, located indoors next to our Food Quarter? With stalls ranging from unique arts, crafts, gift ideas and treats, our Christmas Market is perfect for both visitors and their pawfect pals.
Unfortunately, dogs are not permitted in our Personalised Santa Experience or on our Observation Wheel and Ice Rink for health and safety reasons.
Where is Winter Glow?
Winter Glow is open from the 25th November 2022 – 2nd January 2023 at the Three Counties Showground, Malvern, Worcestershire. Parking is free and disabled parking spaces are available.
Is Winter Glow wheelchair accessible?
The Illuminated Light Trail itself is built along a mix of tarmac pathways and temporary tracking, some surfaces are slightly uneven, but no part of the trail is on grass or mud, so no need to worry about muddy feet or paws!
All tunnels and 'walk through' installations have been designed to be wheelchair friendly. Please ensure that your wheelchair can accommodate sightly uneven surfaces.
How do I book?
To book tickets for our dog-friendly Light Trail head to our ticketing page. Remember our dog-friendly sessions take place on the 13th and 28th December 2022 and the 1st January 2023.
Ticket prices range from £9.80 – £22.00, children under the age of 3 go free. Sessions take place every 15 minutes and booking slots are available from 4:45pm – 8:00pm. Please remember to wear warm and suitable clothing as the Light Trail is outdoors.
So, what are you waiting for? Treat your pooch this Christmas and book tickets to our dog-friendly Christmas event now!
Are there specific time slots for dog-friendly Light Trail sessions?
Session slots are available to book from 4:45pm – 8:00pm, with sessions taking place every 15 minutes. All sessions on the 13th and 28th December 2022 and 1st January 2023 are dog-friendly so there's no need to worry about booking a specific time slot.
Guide and assistance dogs at Winter Glow.
Assistance dogs are permitted on all live dates (25th November 2022 – 1st January 2023). They will be able to accompany owners on our Giant Observation Wheel, Illuminated Light Trail and in our Personalised Santa Experience.