The winter season is nearly upon us and as we prepare for the clocks to turn back and the festive season to fully kick off, it has us turning our sights to what Christmassy things we can do to get in the mood. What Christmas activities for couples are there to do at Winter Glow 2022?
As far as Christmas activities for couples go, this is one particular event that is imbued with festive magic. Where you can sip on mulled wine and enjoy the twinkling glow of hundreds of fairy lights while immersing yourself fully into the spirit of the season.
Winter Glow is a round-up of five amazing winter events in Malvern, Worcestershire running from the 25th of November 2022 to the 2nd of January 2023. With fairground rides, Bavarian bar, their new for 2022 Cotswolds Christmas markets, and food quarter it's one of the best Christmas things to do as a couple.
If you're looking for something a bit different to do with your other half this Christmas, Winter Glow has a host of fantastic activities. Read on to find out the top 6 couples' activities.
1. Get cosy with a spicy mulled wine
There's nothing better than warming up your cold hands with a nice warm drink. And it's not just mulled wine on offer at Winter Glow. Our brand-new Bavarian-inspired bar will be stocked with warm spiced cider. Perfect for snuggling up together as you wander around Winter Glow taking in the delicious spices and scents as you do so.
2. See the beautiful Malvern Hills from the observation wheel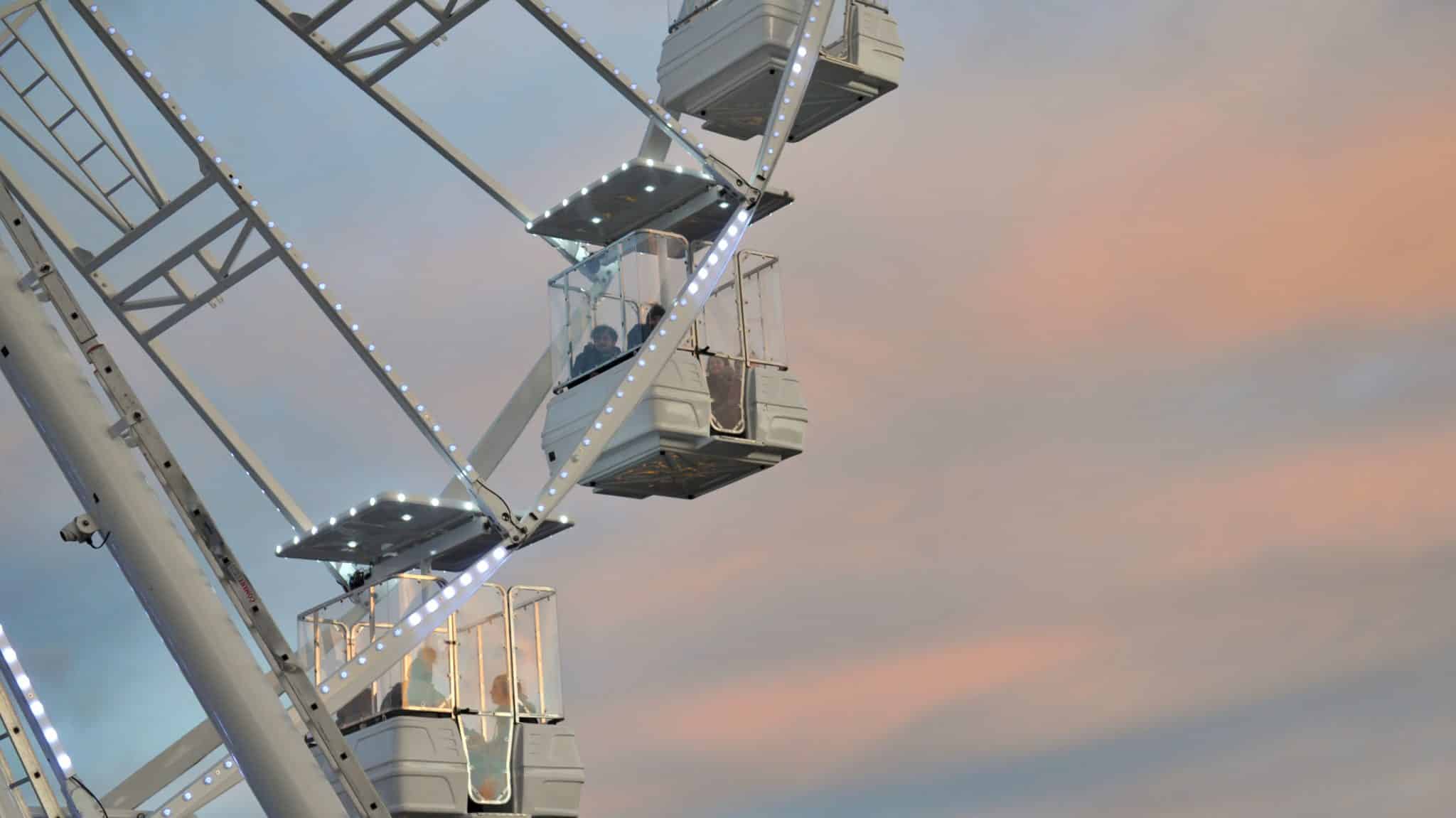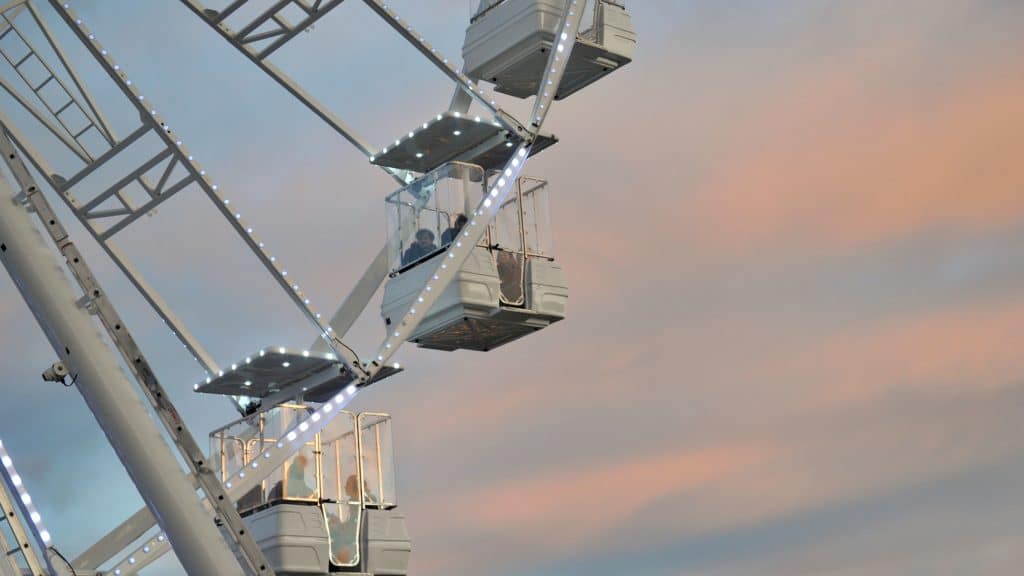 When looking to take in the beautiful Malvern skyline, there's no better Christmas thing to do as a couple than a ride on their 120ft giant observation wheel. Malvern's first-ever giant wheel is returning to Winter Glow this year and offers sprawling views of the beautiful twinkling lights below. Take in the stunning views while you sip on a hot chocolate or mulled wine, soaring high above the treetops. You can reminisce on past Christmases, look forward to the upcoming Christmas season and snap plenty of photos to remind you of the wonderful day you've had. 
3. Get lost in a Christmas Odyssey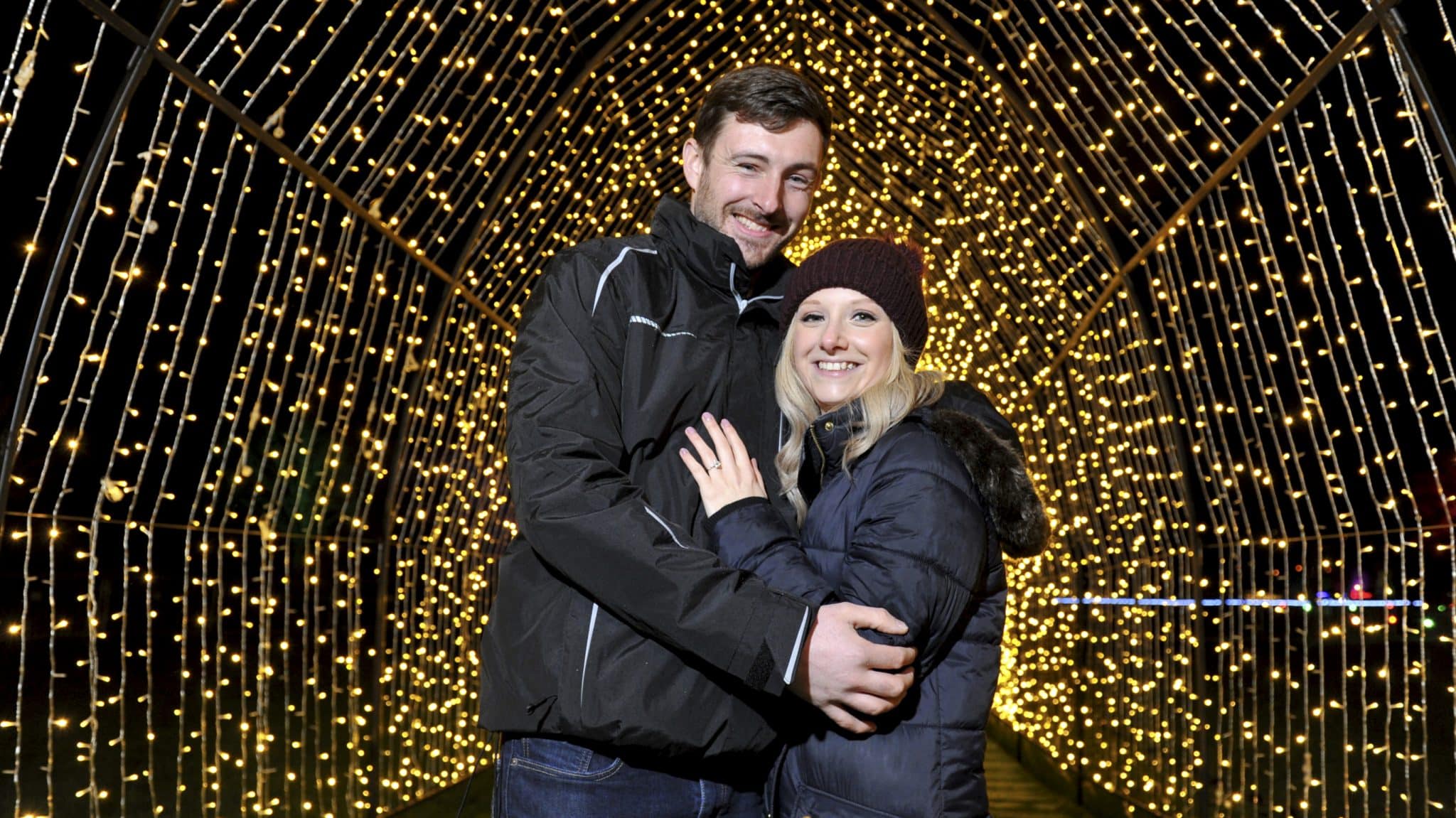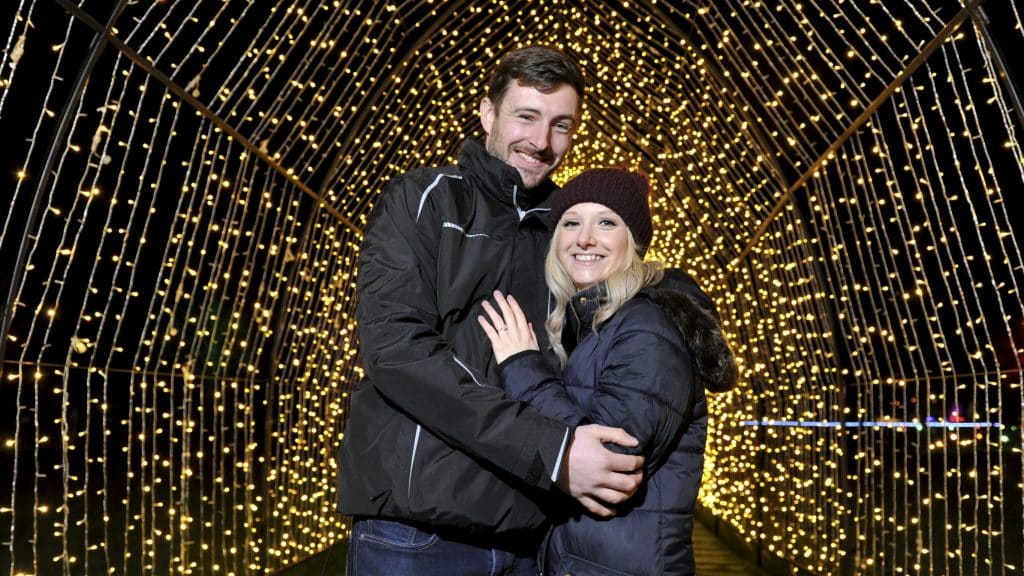 Is there anything more romantic than a walk through an illuminated light trail? Take your loved one's hand and be transported to a magical wonderland full of festive fun and unmissable sights. The theme for 2022 is "A Christmas Odyssey" – designed to fully immerse yourself in the festive season. The incredible illuminated structures and installations have been cleverly created and put together by a team of local artists, lighting designers and craftspersons. So you can wrap up warm and meander hand in hand around the trail together. It's an ideal choice when it comes to Christmas activities for couples.
If your other half happens to be of the K9 variety, there are also dog-friendly light trail sessions on the 13th and 28th of December 2022 and the 1st of January 2023. So you can bring your beloved pooch along and explore the illuminated wonders together. Dogs are also welcome in the Food Quarter, Bar and Skate Cafe so you can relax with a post-walk treat together.
5. Hold on to each other around the ice rink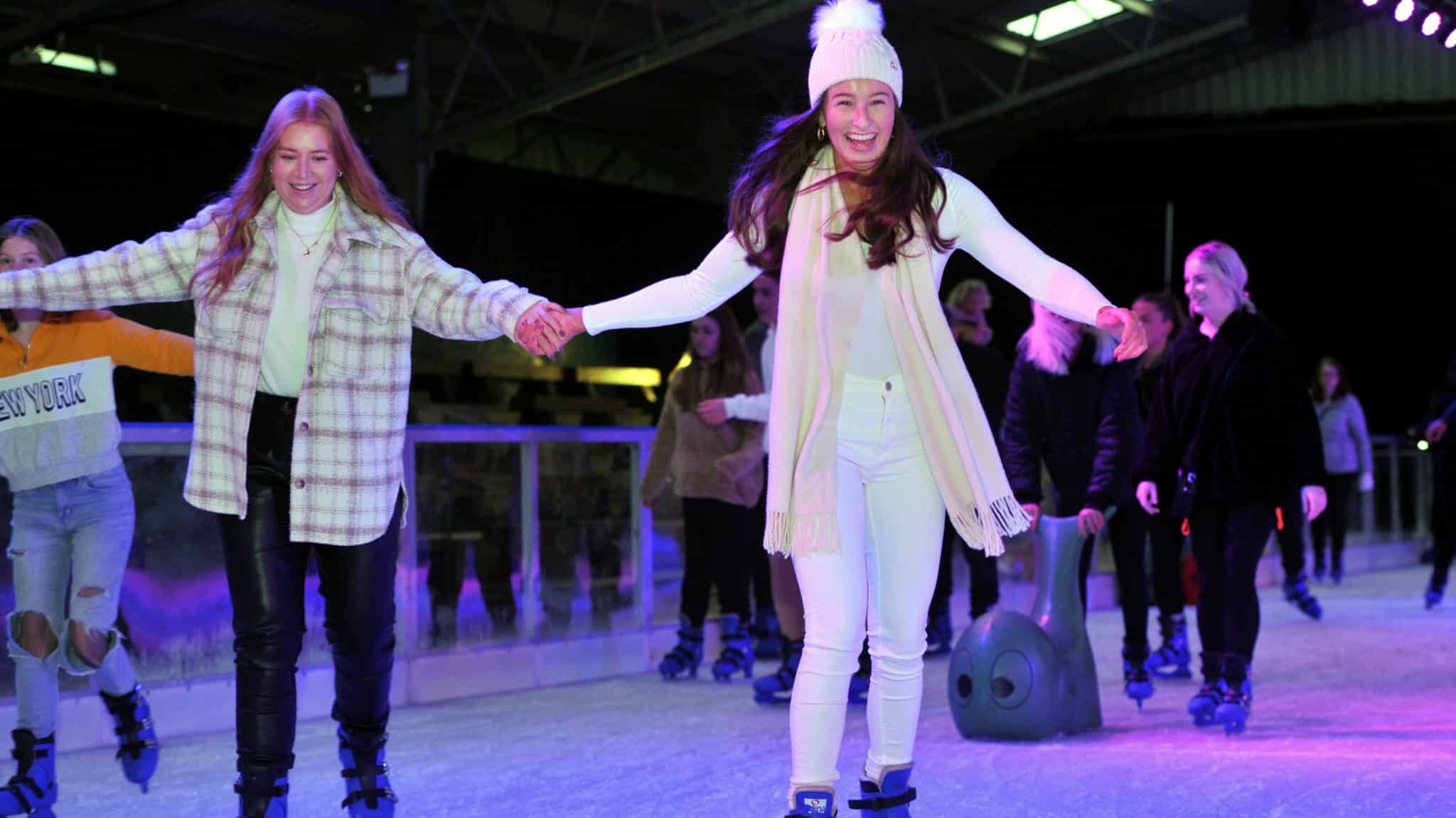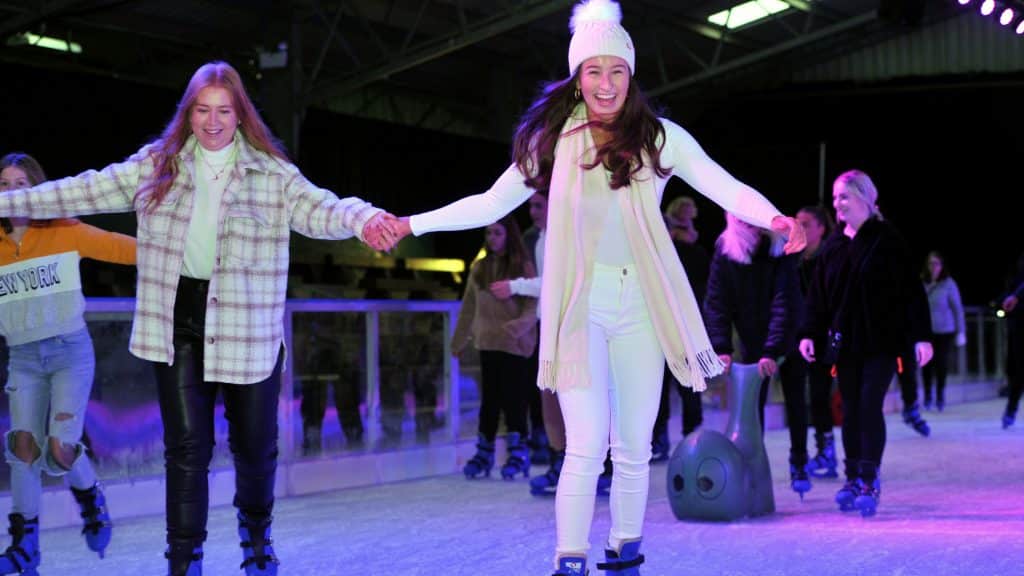 Snow or no snow, you can take to the ice and show your stuff, or just use your partner to keep you up as you make your way around the Winter Glow ice rink. Glide around to the sounds of your favourite festive tunes and marvel at the many beautiful decorations and giant glistening snowflakes (trying not to fall over).
Skating sessions at the ice rink in Malvern take place every hour and last forty-five minutes, the ideal amount of time for you to show your skills before heading for a drink and a bite to eat.
6. Buy unique gifts at the indoor market
One of the best things about the festive season is being able to wander through Christmas markets. With the smell of mulled wine and fresh doughnuts in the air, you can pick out Christmas gifts for your family and friends or buy some new decorations for your home. Our indoor Christmas market is new for Winter Glow 2022 so can soak up the festive spirit no matter the weather, plus there are three fairground rides nearby.
Once you have had fun exploring the stalls, you can head to the rides, battling it out on the dodgems, play around in the Ice Mountain Fun House or have a go on the Bungee trampolines (maybe do that before dinner).
Christmas activities for couples are those things you will remember forever and can take plenty of photos along the way. Winter Glow 2022 is an ideal choice for getting into the festive spirit, from ice skating hand in hand to finding Christmas gifts together in the market stalls you're spoilt for choice.