Our popular Ice Princess Ice Skating Parties are set to return to the rink for Christmas 2023! Join us on one of the largest, indoor ice rinks in the West Midlands at the Three Counties Showground, Malvern, Worcestershire. Taking place every Sunday at 11am from the 27th November 2023 – 1st January 2023, experience the magic and watch your little ones as they skate to the music of Disney's Frozen alongside our Ice Princesses.
What are Ice Princess Ice Skating Parties and what can I expect?
Sheltered from the elements and festively decorated, our indoor ice rink really is the perfect place for a Christmas ice skate! Our ice-skating parties are perfect for those who love a little fairy-tale magic and feature a special appearance from two, very famous ice-wielding sisters.
What better way to put a smile on little ones faces than to have an exclusive ice-skating party this Christmas? Every Sunday from the 27th November 2023 – 1st January 2024, Winter Glow will play host to our snow Princesses as they take to the ice rink, offering little skaters the opportunity to interact with their idols.
The perfect Christmas ice-skating event!
There's no better Christmas activity than ice-skating. Our Ice Princess Ice Skating Parties begin at 11am every Sunday and last 45 minutes. Tickets for these exclusive sessions are now on sale and are guaranteed to sell out fast! Please note that these sessions have a limited capacity.
Will skate aids be available to hire during Ice Princess Ice Skating Parties?
We stock a limited amount of Beluga Whale skate aids that can be used by children to sit on, or skate with to aid balance whilst on the ice. Numbers for each session are restricted and allocated on afirst-come first-serve basis.
When booking your tickets, a pop-up will prompt you to add a skate aid to your order, and you will need to select this. Please note that if skate aids are sold out for your selected session, the aid will not be added to your basket.
Please carefully check this when completing your order. We strongly recommend booking a skate aid in advance of arriving to the Ice Rink.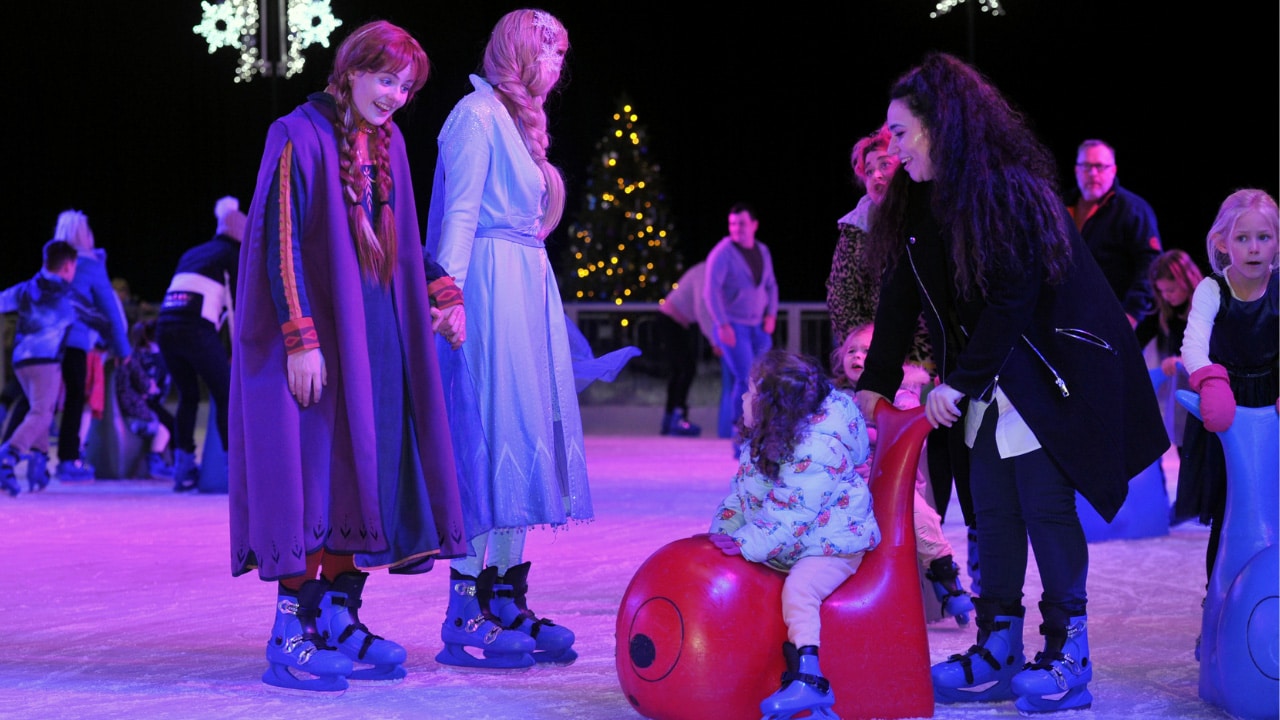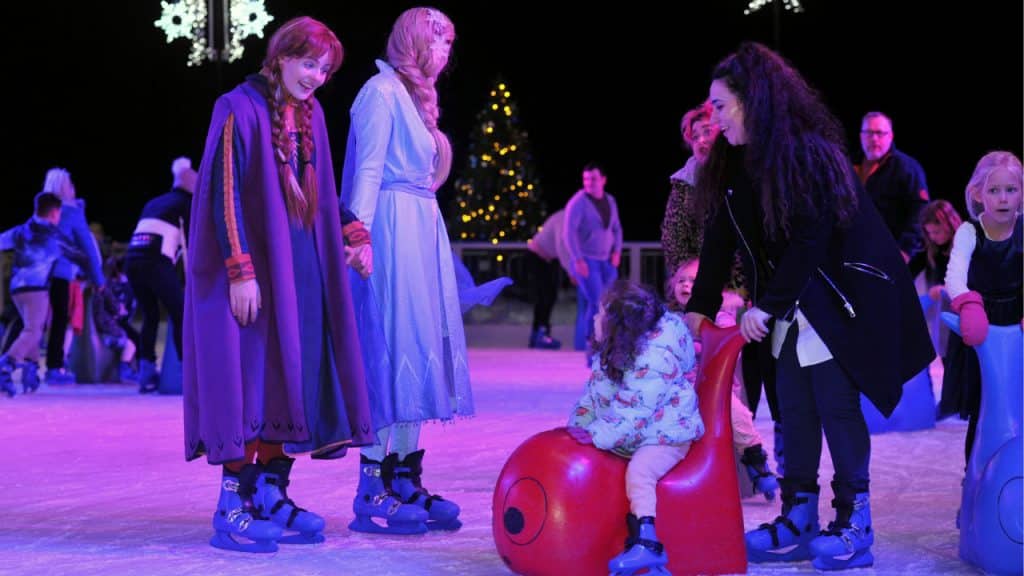 Will there be hot food and drinks available?
We all know that you can't buy happiness, but you can buy hot chocolate with marshmallows, and that's basically the same thing.
Our Ice Café is located next to the ice rink and will have a selection of lighter food options and hot and cold drinks. It's the perfect place for mini-Princesses and Princes to rest and refuel after their skating session. Alternatively, tickle your taste buds and warm your toes at our Food Quarter where our crew of talented, independent food traders will be cooking up a range of mouth-watering food options.
Fancy a festive treat? Join us for an indulgent afternoon tea filled with an array of sweet and savoury festive treats. Located in the VIP area of our Ice Café, our Christmas Afternoon Tea offers up a selection of finger sandwiches, artisan cakes and traditional scones.
Afternoon Teas are available to book from 11am – 3pm. We have limited availability, so require you to pre-book all Christmas Afternoon Teas. Cream Tea's will also be available to order from our Ice Café (pre-booking not required).
Please note that though the Food Quarter, Ice Café and Ice Rink are all indoors, these areas are not heated.
Are wheelchairs allowed on the ice?
Manual wheelchairs are allowed on the ice, unfortunately electric wheelchairs are not permitted. You must always have someone on the ice with you, all essential carers go free – please see our FAQ's for more information.
Is there a spectators area?
There is a spectator's area next to the ice rink, however this area is not heated so please remember to wrap up warm.
Where is Winter Glow?
Winter Glow is open from the 25th November 2023 – 2nd January 2024 at the Three Counties Showground, Malvern, Worcestershire. Parking is free and disabled parking spaces are available.
What should I wear?
Winter Glow is predominantly an outdoor Christmas event. Although covered, the ice rink area is not heated. It is highly recommended that all skaters wear thick and suitable socks and gloves. Several thin layers that can be removed are better than one thick layer. Waterproof clothing is recommended.
Fancy dress is not mandatory for our Ice Princess Ice Skating Parties but is strongly encouraged!
How do I book?
To book tickets to our Ice Princess Ice Skating Parties head to our ticketing page. Remember that our Ice Princess Parties take place every Sunday at 11am from 27th November 2023 – 1st January 2024.
We do advise arriving 15 minutes early to your booked session to get your skates fitted. Ice skates are included in the ticket price and available from size J8 (child) up to and including size 14 (adult).
Children under the age of 3 unfortunately are not permitted on the ice.