Winter Glow's Illuminated Light Trail Returns for 2023 with a Magical New Adventure – 'The Golden Snowflake!'
Winter Glow's Illuminated Light Trail returns for 2023 with a brand new, immersive theme. It's more enchanting than ever! Embark on an unforgettable journey with Jingle the Elf in 'The Golden Snowflake.' This year's light trail bigger and brighter, unveiling a heart-warming storyline celebrating individuality and the power of unity. Gear up for a joyous adventure filled with love, laughter, and the spirit of Christmas.
Join Jingle the Elf on a captivating expedition to bring the Golden Snowflake back home. Sets off through a wondrous winter wonderland, meeting old and new friends along the way. This adventure will be far from easy!
As Jingle ventures deeper into his quest, he encounters a myriad of Christmas characters. From the wise old Ice Dragon to the mischievous colourful penguins. Each spreading joy and warmth in their own special ways.
Jingle must confront treacherous storms and face daunting obstacles on his journey. Despite the difficulties he remains determined with the help of the friends he makes along the way. They just want him to return home safely.
Jingle soon realises that the real beauty lies in the power of coming together and the help he receives from his friends along his journey. The real beauty of the snowflake is reflected in us. Snowflakes are all created differently, each one with its own intricate pattern and beauty. Yet, when these snowflakes unite, they create a breath-taking blanket of white, symbolising the strength of unity.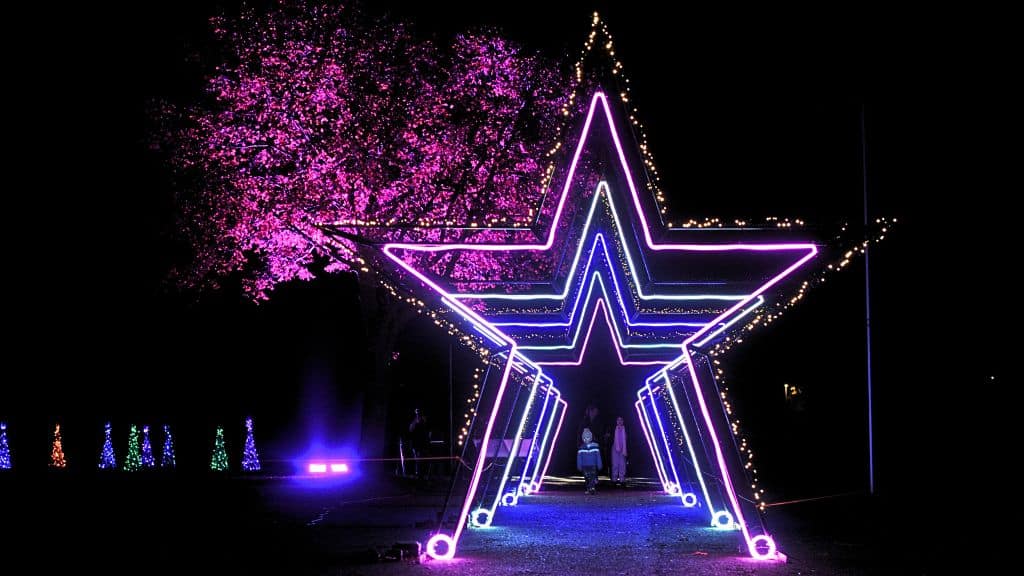 Embracing Individuality and Unity
'The Golden Snowflake' is not just a magical adventure but a heart-warming tale that celebrates the importance of embracing individuality while recognising the power of togetherness.
The narrative of 'The Golden Snowflake' resonates with the spirit of the holiday season. It reminds us of the magic that unfolds when we accept and appreciate our uniqueness while fostering love and understanding amongst one another.
As you wander through the Illuminated Light Trail, you'll be enchanted by the stunning display of lights and captivating scenery that brings 'The Golden Snowflake' to life.